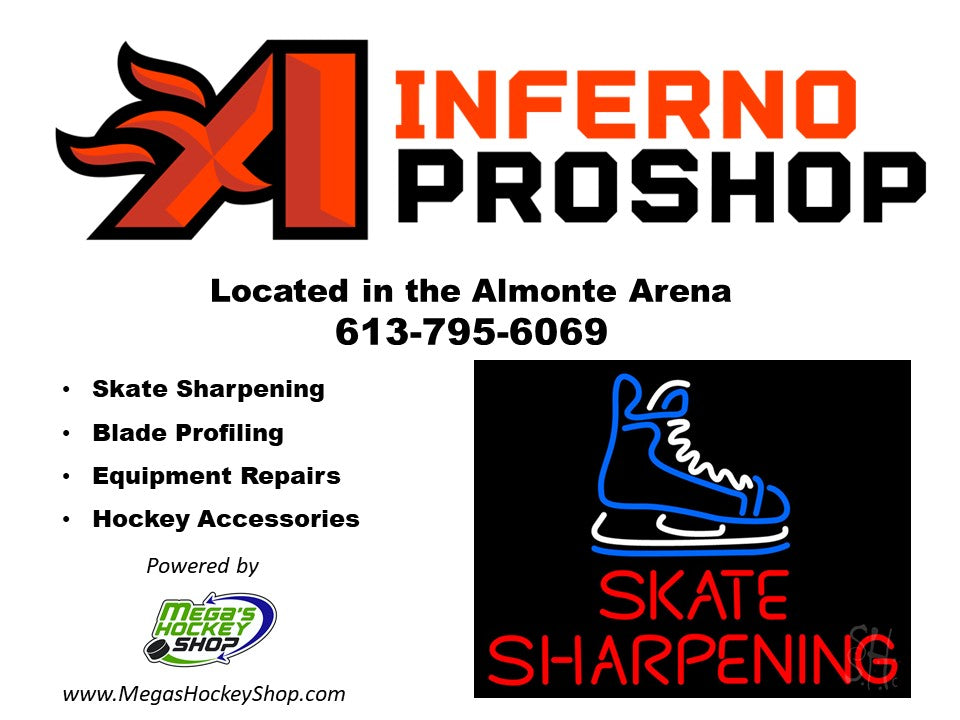 We are very excited to share that we are collaborating with the Almonte Inferno Junior Hockey Club in opening the Inferno ProShop at the Almonte & District Community Centre.   In addition to offering skate sharpening and profiling, we will carry the basic hockey accessories.  We will post open hours on our Face Book page at  https://www.facebook.com/InfernoProShop Hope to see you soon!
---
Once again a big heartfelt "Thank you" to all of our customers for continued support over the last year.  The last couple of years have been challenging with facility lock downs and the same supply chain and shipping issues that impacted all businesses. We continued to look for new quality products and services to offer our customers. In particular, we focused a bit more on DIY repair supplies and repair services.  We also integrated some new shipping solutions to help improve our delivery time to our customers globally.   We always recommend choosing a shipping option that has a parcel tracking feature for any product of significant...
---
The Ontario government has mandated the closure of all non essential business until further notice.  While we still can operate online, several of our suppliers are temporarily shut down as a result of the government mandate. Orders for certain products may be temporarily delayed in our queue as a back order.  We will do our best to expedite shipping of these orders as soon as the closure is lifted. If you have any questions or concerns, please feel free to email us at info@megashockeyshop.com. We will continue to update this page if things change. Some customers are reporting that they have experienced...
---
We are pleased to announce that Mega's Hockey Shop in Carp is the official skate service provider for the West Carleton Inferno Junior 'C' Hockey Team.   The "Inferno" play their home games out of the W. Erskine Johnston arena in Carp ON on Saturdays at 8:00 PM and Sundays at 4:00 PM. http://www.infernojuniorhockey.com
---
Wow, we've had a very busy couple of months getting Mega's Hockey Shop from an idea to something real.  Today we have an online presence complete with a secure e-commerce portal, Facebook page, Twitter and Instagram. Now I just need to get the kids to teach me  how to use these great social media tools.  We have developed relationships with some great suppliers providing us with quality products.   We had a great day at the Almonte Arena for APMHA Day on Oct 22.  Thank you APMHA for letting us set up in the arena lobby for the day.   We...